The Ohio Guide to Firearm Laws - 5th Edition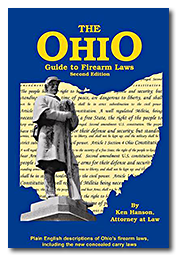 $19.95 NOW $8.50 with FREE SHIPPING
Click the "Add to Cart" button below to ORDER your copy now.
If you carry concealed, keep a gun in your home, or transport firearms between your home and a shooting range, club, or hunting area, YOU NEED THIS BOOK!
Written by Ken Hanson, The Ohio Guide to Firearm Laws is the DEFINITIVE reference. This 5th edition (2016) provides simple but comprehensive coverage of Ohio's gun laws ...
Explanation of general criminal law
Outline of Ohio's many firearm laws
Real life cases to illustrate legal pitfalls
Details on non-handgun concealed carry
How to apply for a concealed handgun license
Regulations for legally carrying a handgun
License renewals, replacements, suspensions, and revocations
Rules for using lethal force in self-defense
Liability issues facing every gun owner
What to do (and what not to do) after a shooting
Tips for finding high-quality gun training
The complete text of Ohio's gun statutes
PLUS this must-read guide brings you up-to-date on significant changes that you need to know ...
NEW laws for transporting firearms in a vehicle
NEW laws for restoring ownership rights and sealing records for convictions and pardons
NEW laws for Ohio's NFA (CLASS III) sign-off procedures
NEW laws for hidden compartments in vehicles
NEW laws for how concealed carry reciprocity works with other states
In addition, Ken explains Cleveland's current efforts to pass gun control and the likely outcomes. And you'll get a primer on R.C. 9.68 dealing with the difficult question "If Ohio doesn't have preemption, what exactly does Ohio have?"
Whether you're a private gun owner, firearm instructor, law-enforcement officer, gun dealer, or anyone concerned about understanding and complying with Ohio gun law, this is THE book on Ohio gun law. In simple English, you'll get a better understanding about how the law affects you every day.
Click the "Add to Cart" button below to ORDER your copy now.
About the Author:
Ken Hanson, Esq. was a former assistant prosecuting attorney and public defender. Hanson was recognized as the go-to authority on Ohio gun law and worked directly with Ohio legislation, legislative aides, representatives, senators, the attorney general's office, and the media on firearm issues, legislation, and cases.
He was an NRA Certified Instructor in multiple disciplines and acted as a legal trainer for other concealed carry instructors. In addition, he lectured community groups and organizations on gun issues and frequently acts as a consultant on political campaigns for sportsmen issues.
Hanson was awarded the NRA-ILA Defender of Justice Award for his extensive pro-bono work to improve and defend gun rights, including notable cases before the Ohio Supreme Court and DC v. Heller, the landmark case before the Supreme Court of the United States.
Mr. Hanson passed away on Aug. 4, 2019.