Protect My Castle Gun Raffle Winner Announced
7:00am Friday, August 22, 2014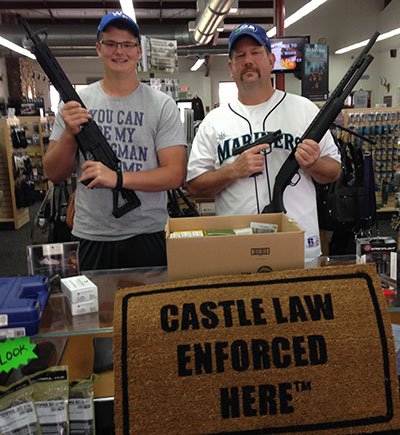 Another raffle. Another pile of guns and gear. Another happy winner.
Buckeye Firearms Foundation recently completed its latest raffle selling 1,000 tickets in 10 hours, 40 minutes. In case you're curious, the sellout record is 2 hours, 25 minutes for our Silent Night AR15 Raffle back in December of 2013.
The winner was Robert from Wakeman, Ohio with winning number 436.
The drawing took place on Friday, August 15, 2014, at 7:29 pm, and Robert wasted no time in making the 2-hour trip to Black Wing Shooting Center in Delaware to pick up the prizes with his son:
Bushmaster XM15 .223 Rifle
Mossberg 500 w/heat shield
Smith & Wesson M&P 40
240 Rounds of Federal XM193 5.56 Ammo
200 Round of Remingtion 12 GA 00 Buck
250 Rounds of Federal RTP .40 S&W Ammo
Magpul 30 Round Black PMAGS
Ready To Defend "Castle Law Enforced Here" Door Mat
Streamlight TLR‐1 HL Weapon Light
Robert purchased 4 tickets, the last one matching the Ohio Lottery Pick 3, which is the televised drawing we use to pick our winning numbers.
He's pretty happy about those winnings, but his son may be even happier. And who could blame them?
Congratulations, Robert! And a warm thank you to everyone who purchased tickets. Proceeds go directly to support the programs of Buckeye Firearms Foundation, including our nationally-recognized FASTER teacher training program.
IF YOU DIDN'T KNOW ABOUT THE RAFFLE READ THIS ...
If you didn't hear about this raffle until now, the reason is pretty simple. Only Ohio residents can enter our gun raffles. So we send raffle invitations ONLY to those who subscribe to our newsletter AND who provide their full contact information.
If we don't know you live in Ohio, we can't send you a raffle invitation.
This is easy to fix:
1. If you have not signed up for our newsletter, SUBSCRIBE NOW.
2. If you already get our newsletter, look at the very bottom of any newsletter we send you and click on the UPDATE link. Then follow the instrutions to update your contact information, including your address and phone number.
Our next raffle is coming up shortly, and it's going to be amazing. You do NOT want to miss it.