Another Ohio school board moves to protect its students with armed staff members
7:00am Friday, December 21, 2018
Cincinnati's FOX 19 is reporting that a Clinton County school district is the latest in the Tri-State to allow teachers and other staff members to carry guns.
From the article:
The Blanchester School Board voted Monday night to allow trained staff members to carry the weapons on campus.

The unanimous vote was based on a public resolution, sources tell FOX19 NOW.

FOX19 is working to gather more details about the timeline for the arming of trained staff members, which would be entirely voluntary.

...

Other local school districts have passed rules allowing the arming of school staff such as Madison schools in Butler County and Williamsburg ones in Clermont County.
Security-minded parents who live in places with differing philosophies at area schools may want to keep this in mind and consider open-enrolling in a school that is capable of providing immediate protection for their children.
In response to the 2012 Sandy Hook Elementary School Shooting in Newtown, Connecticut, which claimed the lives of 20 children and 6 adult staff members, Buckeye Firearms Foundation launched an emergency response training program here in Ohio for teachers, administrators, and other school staff.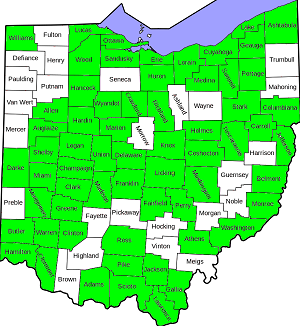 Called FASTER Saves Lives (Faculty/Administrator Safety Training & Emergency Response), the nonprofit program has to date provided high-level training to 2,000 teachers and staff members from 250 school districts in 15 states. This includes teachers and staff in 77 of Ohio's 88 counties.
"The response from Ohio educators has been more enthusiastic than we could have ever imagined," said Joe Eaton, FASTER Program Director.
"When we first announced that we planned to train teachers in armed response and emergency medical aid," Eaton continued, "some people said teachers would never sign up. But within days of announcing the program, we had 600 apply for training. In weeks, it soared to over 1,000. Today we have nearly 2,000 faculty members from all over Ohio waiting in line for a chance to get this training. And more are contacting us every day."
The enthusiasm for this program has gone far beyond Ohio. School staff from six other states have attended FASTER training. In addition, instructors from as far away as Colorado have traveled to Ohio to see how the program works and take the idea back to their home state.
Created by concerned parents, law enforcement, and nationally-recognized safety and medical experts, FASTER is a groundbreaking, nonprofit program that gives educators practical violence response training.
The program is funded by Buckeye Firearms Foundation, a 501(c)(3) charitable educational organization based in Ohio and the sister organization to Buckeye Firearms Association. Classes can be provided at NO COST to school personnel or school districts.
The program presents a carefully-structured curriculum with over 30 hours of hands-on training over a 3-day class that exceeds the requirements of the Ohio Peace Officer Training Academy.
The purpose is not to replace police and EMT, but to allow teachers, administrators, and other personnel on-site to stop school violence rapidly and render medical aid immediately. It is a well-established fact that faster response to school shootings and other violence results in fewer lives lost.
Chad D. Baus is the Buckeye Firearms Association Secretary and an NRA-certified firearms instructor. He is co-founder of BFA-PAC, and served as its Vice Chairman for 15 years. He is the editor of BuckeyeFirearms.org, which received the Outdoor Writers of Ohio 2013 Supporting Member Award for Best Website.