Attorney General announces Third Quarter 2016 CHL statistics; 59% increase over prior year
7:00am Wednesday, December 14, 2016
Ohio Attorney General Mike DeWine (R) has released the Concealed Handgun License (CHL) statistics for the third quarter of 2016, setting new records.
The third quarter of 2016 was the busiest third quarter in history almost ensuring that more initial licenses will be issued in 2016 than any other year. There are now over 574,000 valid Ohio CHL's and Ohio honors an estimated 12,300,000 more.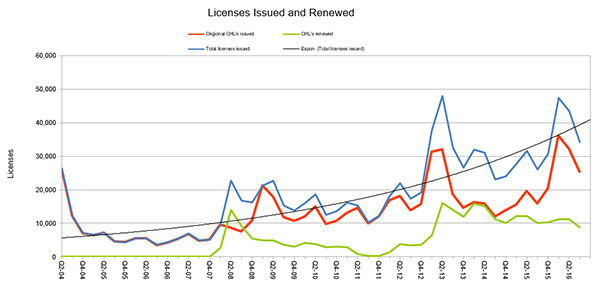 Stats at a glance:
For the first time, there are over 574,000 active Ohio CHLs
25,474 is the most initial CHL's ever issued in a third quarter
This is a 59% increase over the same period the prior year.
The 85% renewal rate was the highest ever renewal rate for a quarter
25,474 regular CHLs, 8,754 renewals and 10 TELs meant a total of 34,238 licenses were issued in the quarter.
More initial CHLs (93,851) were issued in the first nine months of 2016 than in 2004, 2005, and 2006 combined.
There are 4% more active CHLs than there were just three months ago.
There are 21% more active CHLs than there were just one year ago.
Sheriffs issued over 15 CHLs per hour.
Sheriffs issued over 500 CHLs per week. (almost double historical average)
1:16 odds an adult you see has a CHL.
Revocation rate is about 0.4%
None of this is surprising. Ohio concealed carry instructors remain swamped with demand for their classes. We were widely criticized for supporting a reduction in required training from 12 to 8 hours. The reason was simple; we wanted more people to get training. The numbers indicate that the change in required training is having the effect we intended.
It is always difficult to assign specific reasons for behavior. Certainly multiple high profile terrorist attacks internationally, and at home have contributed in people taking an interest in their own safety. Many people thought the terror would end following Ramadan, then the election, but it is clear that terror is something we will have to deal with in our country going forward.
Two of the biggest reasons people with a CHL don't carry their gun are Ohio's burdensome laws on victim zones (places a CHL is prohibited from carrying guns) and threat of termination from their employer. Last week the legislature passed significant improvements in this area. SB 199 incorporated much of what had been in HB 48, sponsored by Representative Ron Maag (R), and SB 180, sponsored by Senator Joe Uecker (R), before passing that legislation, which is now on its way to Governor Kasich for his signature.
Data continues to support a theory expressed by Professor Brian Anse Patrick that demand has not leveled off, but is increasing over time. Concealed carry used to be mostly hard core shooters, but it has become increasingly popular with soccer moms and others who just want to be safe in their everyday life. It is becoming mainstream.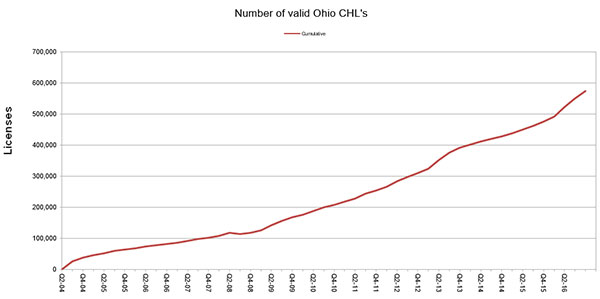 We are now in our 12th year of concealed carry in Ohio. It is past time to fully "de-Taft" our CHL laws and adopts a best practice approach. While no large group of people is perfect, the CHL-holder has proven to be considerably more law-abiding than the population at large.
Political strength comes through numbers. We ask all CHL's to consider a membership to Buckeye Firearms Association or a donation to BFA-PAC.
Jim Irvine is the Buckeye Firearms Association President, BFA PAC Chairman and recipient of the NRA-ILA's 2011 "Jay M. Littlefield Volunteer of the Year Award," the CCRKBA's 2012 "Gun Rights Defender of the Year Award," and the SAF's 2015 "Defender of Freedom Award."
Further Information:
Ohio Attorney General - 2016 Q3 Concealed Carry Stats