CCW Wallet Card 850 Pack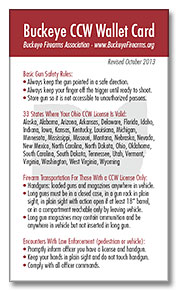 This laminated, 2-sided card fits in any wallet or purse and provides a handy reference for anyone with an Ohio Concealed Handgun License. It lists essential information for carrying a concealed handgun in Ohio:
Basic Gun Safety Rules
States Where Your License Is NOT Valid
Firearm Transportation
Encounters With Law Enforcement
Forbidden Carry Zones
Firearm Instructors: Buckeye CCW Wallet Cards add value to your class and protect your reputation by keeping graduates informed and responsible.
Sheriffs: These cards help educate citizens so they can comply with current Ohio law and interact with law enforcement in a professional manner.
Citizens: Carry a card in your wallet and give extra cards to family and friends to help stay legal as you carry around the State of Ohio.