First Buckeye Firearms Foundation-funded training class for Ohio teachers is a success; It won't be the last
7:00am Friday, April 05, 2013
by Jim Irvine
The training class that Buckeye Firearms Foundation proposed at a town hall meeting following the mass murder of teachers and school children in Newtown, Connecticut, has been completed. The class of 24 teachers, administrators, and school employees attended a three day class at Tactical Defense Institute (TDI) in Adams County, Ohio on March 25-27. The weather was cold and at times difficult, but the teachers-turned-students all showed up ready and eager to learn.


The class started with a lecture from John Benner. He explained what we have learned from studying past events, complete with statistics, and addressed the mental preparation needed to end an event. Then students were instructed in proper stance, grip, and trigger management and practiced dry firing with roped guns. The class moved to a range where they continued to work on shooting fundamentals as they practiced live fire drills.
Afternoon training consisted of more work on the fundamentals and added drawing from a holster and from concealment. By the end of the day the newer shooters were all shooting well, and the long-time shooters had shrunk their groupings or increased the speed at which they could reliably make follow-up shots. Several experienced shooters commented that they had learned more about shooting on that first day than the rest of their life combined. Knowing TDI's instructors, that is likely an accurate assessment.
Day Two started with more shooting. Students worked on reloading magazines and refinement of the skills they learned on Day One. They were introduced to shooting while moving and moving past and around people while keeping their gun pointed in a safe direction.
After lunch they were introduced to room-clearing skills and considerations of when it was better to lie in wait versus seeking out the killer(s) to engage them. One size does not fit all, and the participants were instructed that they would need to be able to make decisions about their particular school, job, and the actual incident unfolding to act appropriately. The day concluded with discussion on people handling and weapon retention drills.
Students came back after dinner to listen to Dr. Brian Springer discusses Tactical Combat Casualty Care (TCCC). It is likely that the killer will fire at least one shot before anyone can stop him. In most cases, medical personnel must wait while law enforcement clears and makes the building safe. It is critical that teachers have the skills and tools to treat victims and stop any bleeding to enable those injured to live long enough to be transferred to higher medical care.
Day Three was not sunny, but at least it had stopped snowing. Media were on hand and students had the pressure of knowing they had to shoot a qualification course that afternoon. Students were required to "time in" or shoot a steel plate while being timed as others watched. Even though they were clearly under stress, their performance was impressive. Then they moved back and practiced shooting at greater distances.
Most of Day Three was spent participating in "force on force" (FOF) training. This describes training where the bad guy(s) shoots back. Airsoft pistols which shoot plastic bb's were used. With proper protection, this training is completely safe, but can hurt and allows accurate simulation of high-stress events, such as a school shooting. This was done at TDI's force on force house and on a range where a mock up of a hallway with multiple classrooms was constructed. This training tests, under a high stress environment, all the skills that had been taught previously. Students needed to access a chaotic scene, find the threat and end the killing. If they made a mistake, the person playing the killer could shoot back. The threat of pain adds increased stress, and helps commit lessons to long-term memory.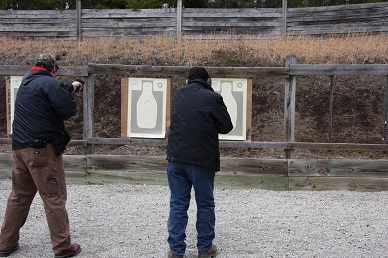 Many of the scenarios required the teacher to shoot a killer to stop the threat, but several others required that they assess the situation and not shoot the person holding a gun. Shooting is secondary to thinking, both in real life and in realistic training.
After extensive force on force training, students were brought back to the range to shoot a law enforcement qualification course. All teachers passed and were appropriately certified. The day ended with certificates, handshakes, high fives and hugs. The teachers were rightfully proud of what they had accomplished. The instructors were delighted with the hard work and dedication of the class. Teachers made great students.
All 24 teachers have returned to their districts. Most have permission to carry a firearm in school for the protection of their children, but a few do not. I pray that their school board recognizes the asset and layer of protection these trained individuals offer their school before it's too late.
In the future, we know there will be a terrible fire somewhere and we know there will be tragic school violence. We don't know when, or where, but we know it will happen. Proper preparation reduces the death toll, but many schools do not yet understand why authorizing persons to carry firearms acts as a critical layer of safety against violence just as fire detectors, fire alarms, fire extinguishers, and fire drills work to protect people from the dangers of fire. The deterrence effect alone of armed staffers may prevent a mass killing from happening at a school. The greatest success we can have is the attack that never begins.
When we announced the first class, we did not imagine the demand from teachers and other school employees. We did not expect to become involved in working with many school boards to help them understand active killer events, how they unfold and how they are stopped, or how to limit loss of life before, during and after the event. But it's now very clear that it is our duty, and that of everyone who cares about children, to step up and be part of the solution.
The first class is complete, but that is only the beginning. There will be more classes at TDI, and, hopefully, other locations around Ohio and across America. Our children depend on us to keep them safe from all dangers, and unfortunately school violence is a large and growing danger. The 9/11 terrorist attacks changed aviation security, and pilots now carry firearms to protect passengers and country. Our teachers are just as dedicated and eager to protect your kids and schools. We owe them whatever support it takes to overcome their obstacles to defending innocent life in their schools.
Jim Irvine is the Buckeye Firearms Association Chairman, the Buckeye Firearms Foundation President, and recipient of the NRA-ILA's 2011 "Jay M. Littlefield Volunteer of the Year Award" and the CCRKBA's 2012 "Gun Rights Defender of the Year Award."