Media Contact Information
The following information is for journalists ONLY. Supporters wishing to make general inquiries should use our contact form.
News Releases: Before you submit a news release to us, please read our Submission Guidelines.
---
Buckeye Firearms Association is the most active grassroots group in Ohio working to defend and advance Ohioans' rights to keep and bear arms.
Because we deal with firearm rights, laws, and issues on a daily basis, we should be your PRIMARY SOURCE for authoritative information for any firearm-related subject in Ohio. Feel free to contact us for quotes, statistics, explanations of current or pending legislation, or technical firearm information.
Take a look at some of the many instances where Buckeye Firearms Association has assisted journalists with expert advice and commentary
Primary Contacts:
Regional Contacts:
Mailing Address: Buckeye Firearms Association, PO Box 87, Blue Creek, OH 45616.
---
Writer's Guide to Firearms and Ammunition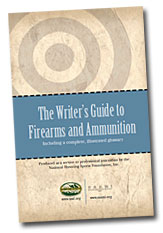 Before writing your next story on a firearms-related issue, please consult the Writer's Guide to Firearms and Ammunition. This guide has been created to help you understand and report on firearm subjects more accurately.
It eliminates the technical jargon and gives you a plain English glossary of firearm terms and at-a-glance fact sheets you can use when you need to do a gun-related story.
Contents includes Firearms Industry Overview Regulations; Statistical Data Regarding Gun Homicides, Suicides, and Accidents; Penalties For Violating Firearm Laws; Examples of Inaccurate or Misleading Coverage; Glossary, Pictures, and Additional Resources.