John Farquhar wins 2012 Zombie Apocalypse Gun & Gear Raffle
3:39pm Monday, August 06, 2012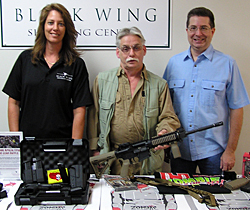 By Dean Rieck
On Wednesday, August 1, 2012 John Farquhar of Mad Duck Firearms Training in West Elkton, OH won the $3,500 prize package for our first gun raffle, benefiting Buckeye Firearms Foundation.
"I'm surprised I won," said John. "I bought several tickets, but I really just wanted to support the work of the Foundation. I had a little extra cash after completing one of my self-defense classes, so I thought why not?"
John met with Robin Salvo, Training/Range Operations Manager at Black Wing Shooting Center, and Dean Rieck, Marketing and Communications Director with Buckeye Firearms Association, to pick up his prize on August 4.
John has been a certified NRA Instructor for 20 years and a Chief Range Safety Officer for 9 years. He was recently approved as an NRA Certified Advanced Pistol Instructor and is a Benefactor member of the NRA. He also works as a regional Counselor for the NRA Refuse to be a Victim program.
"My life is all about firearms and firearms training," John said. "I have trained with Massad Ayoob, Ken Hackathorn, Larry Vickers, Todd Jarrett, Dave Grossman, and at Academi (Blackwater)."
Dean Rieck remarked that he's known John since the early days of Buckeye Firearms Association. "Whenever we run an event or ask for donations, John is always there. It seems like he's always one of the first to sign up, write a check, or ask what he can do to help. I'm delighted that John won."
Robin Salvo said Black Wing Shooting Center was honored to be involved in the raffle. "Gun owners need to stand up for their rights. We're all in this together."
After taking a few photos and completing some paperwork, John loaded the new guns and gear into his trunk. Before starting the long trip home, he said, "I really appreciate everyone at Buckeye Firearms Association for their unselfish donation of time and energy to help preserve our Second Amendment rights. And I'll remember that as I enjoy this prize!"
And we appreciate the humble and tireless support of John Farquhar. If there's anyone we want out there fighting the zombie hoard, it's John.
UPCOMING RAFFLE: Our first raffle was such a big success, we're going to do it again. We're brainstorming with Black Wing Shooting Center about a new theme and a new batch of fun prizes. Stay tuned.
Dean Rieck is the Marketing Director of Second Call Defense and a Leader with Buckeye Firearms Association.