Discover how Ohio politics really works with the "Guidebook for Ohio Legislators"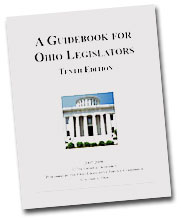 This in-depth guidebook summarizes the Ohio lawmaking process, the role of legislators, and the role of other participants in the legislative process in Ohio.
This is the "insiders" guide given to members of the Ohio General Assembly. By knowing how our legislative process works, you will empower yourself to change laws for the better.
Click here to read the guidebook or download the full document. This is a PDF. If you cannot view this type of file, you can get Acrobat Reader free here.