Extremists raging against self-defense. But will they post at their own homes?
5:15pm Tuesday, February 17, 2004
We've been warning for months that the gun ban extremists' would resort to even more irrational scare tactics (mainly targeted at businesses) than already known for, after Ohio legislature finally passed a concealed carry law.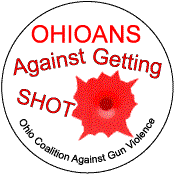 On August 29, 2003, we published a story about how a man in Minnesota was actually working to put people in a great deal of danger, by offering "Carries No Gun" t-shirts for sale, and working to get businesses to post "Gun-Free Zone" signs to ban CCW licenseholders from their property. The article was titled "A View of the future in Ohio?" As witnessed by the OH.A.G.S. button at left, the future is now.
We'd rather not be right about predictions like this, but Ohio's gun ban extremists have obviously bought a copy of the CCW Opponent Loser's playbook.
While we believe being defenseless should be a choice (not a mandate, as it is in Ohio until at least April 8), the idea of advertising the fact that you are defenseless, and thereby a potential victim, is a very dangerous idea.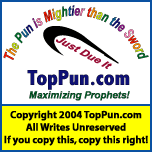 Ohio's gun ban extremists are now engaged in a copy-cat version of this campaign in Ohio.
From attempting to scare businesses into posting discriminatory signs, to encouraging prank calls to police dispatchers, Ohio's gun ban lobby has resorted to a whole new level of hysterics as they rage against self-defense.
The good news is that the CCW Opponent Loser's playbook has met with very little success in other states. The bad news is that it meets with any at all (witness the "Captain D's" murders in Tennessee).
At the end of the day, the real question to ask these extremists is this: will you be posting a "Gun Free" sign on your home? If not, why would you possibly think I would listen to your claims that it is the safe thing to do at my place of business?