Hamilton Co. Sheriff sees red after confiscating painted handgun
7:00am Wednesday, December 17, 2014
Last week, State Rep. Alicia Reece's (D-Cincinnati) introduction of HB 681 ('Toy' Gun Control) was given great fanfare by media throughout Ohio and beyond.
HB 681 seeks to mandate that any gun other than a firearm (including airsoft guns and BB/pellet guns) be marked with an orange barrel tip and orange trigger guard along with florescent adhesive bands. Such guns would be exempted from these requirements if they are "a device the entire exterior surface of which is white, bright red, bright orange, bright yellow, bright green, bright blue, bright pink, or bright purple, either singly or as the predominant color in combination with other colors in any pattern."
In other words, Reece believes that law enforcement will be able to stop using lethal force to defend themselves against someone if they are brandishing a gun that looks like this: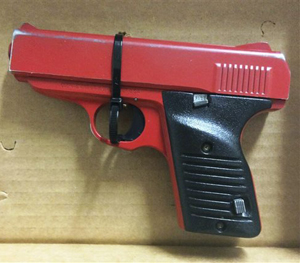 The trouble for Reece and her media psycophants, of course, is that many firearms already DO look like this, and those that don't already can be made to. In fact, the gun in the photo above is a firearm which was confiscated from a man carrying 9 grams of cocaine by the Hamilton County Sheriff's Office just days after she introduced her bill.
From the Associated Press:
Southwest Ohio authorities said Friday they arrested a man with a loaded handgun painted red to resemble a toy.

The arrest came just four days after legislation was introduced in the state to require that lookalike guns be brightly colored or otherwise marked. Ohio lawmakers took up the bill following two police fatal shootings of young people carrying lookalike guns in recent months.

Hamilton County Sheriff Jim Neil said it's "a scary thought" that guns would be painted to mislead police.

...

"And the fact is right here in Hamilton County, we arrested a dangerous individual who we believe purposefully painted a loaded handgun red to mislead law enforcement into thinking this was a toy gun," Neil said in statement.
The article doesn't explain why Sheriff Neil believes the gun was intended to look like a toy.
Even before State Rep. Alicia Reece (D) introduced HB 681 ('Toy' Gun Control), Buckeye Firearms Association has been working to disprove the fallacy of thinking that such a measure would help law enforcement distinguish between guns that are not firearms and guns that are.
The fact is, in recent years guns have become something that their owners like to personalize. The days of the "Henry Ford firearm" (i.e. it comes in any color, as long as it's black) are long gone.
How in the world does Rep. Reece think it will help to make all BB gun, air rifle and airsoft manufacturers make their guns look like the actual firearms shown below?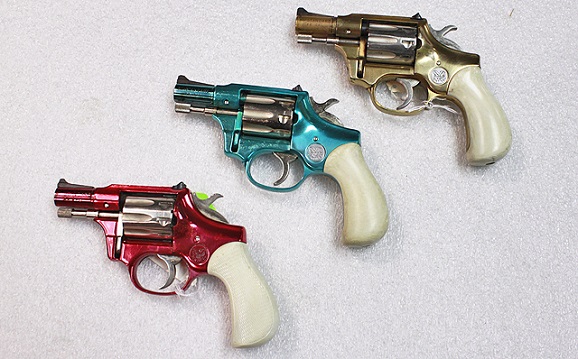 If a firearm isn't manufactured in such a bright color, the owner need only to chose from a large variety of companies offering colored coatings that can be applied to a firearm.
Does Rep. Reece honestly think police can afford to be any less concerned when the gun pointed at them is brightly colored, or when it has a few strips of florescent tape on it?
The real answer to the problems seen in two incidents in Ohio recently is education, a point made quite well in this recent article at PoliceOne.com:
Rule #1: "When a cop tells you 'drop the gun' — you drop the gun, immediately."
Rule #2: "When a cop asks to see your hands — make like a goal post and spread your fingers."
That goes for ANY gun - whether it's red, brown, yellow black or white, whether it's a firearm, an airsoft gun or a BB/pellet gun, or even a true non-firing replica/toy. Because police can't be asked to judge based on the color of a gun any more than they should judge a person based on the color of their skin.
Chad D. Baus is the Buckeye Firearms Association Secretary, BFA PAC Vice Chairman, and an NRA-certified firearms instructor. He is the editor of BuckeyeFirearms.org, which received the Outdoor Writers of Ohio 2013 Supporting Member Award for Best Website.