Meet Jon Husted, Ohio's Top Election Official Who May be Governor
7:00am Friday, March 31, 2017
With all of Ohio's statewide officeholders reaching their term limit in 2018, the in the race to become the next Governor for Ohio is already heating up. One man thought to be ready to throw his hat into the ring is Ohio Secretary of State Jon Husted.
Jon Husted was elected the state's top election official in 2010 with nearly a half-million votes to spare. In his 2014 bid for reelection, he won 86 of Ohio's 88 counties. Prior to his run for statewide office, Husted served four terms in the Ohio House of Representatives and still holds the record of being one of the youngest to ever hold the chamber's gavel as House Speaker.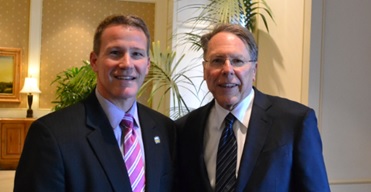 Jon Husted has a flawless record in supporting Second Amendment rights. Under Husted's Speakership, the state legislature took huge strides toward making Ohio a more friendly state to Second Amendment rights by loosening restrictions on lawful gun ownership. It was also a time when supporters of gun rights suffered their most significant blow when the then-republican governor vetoed common-sense legislation to ease restrictions on concealed-carry permit holders.
House Bill 347 sought to reverse restrictions that had even made travel with a lawfully owned firearm nearly impossible within Ohio because of the patchwork of restrictive local gun ordinances. The bill was a priority for the Buckeye Firearms Association and other gun-rights groups. With just days left before the end of the legislative session and a month before the new democratic governor's term was set to begin, the veto was a devastating setback for our cause.
But despite pressure from the gun control lobby, the hostile media and even opposition within his own party, Jon Husted wasn't ready to give up yet.
Immediately, Husted worked with members of his caucus to return to the House Floor. On December 7, 2006, Jon Husted's House of Representatives stood with Buckeye Firearms Association and other Second Amendment supporters when they overrode that veto and put House Bill 347 into state law.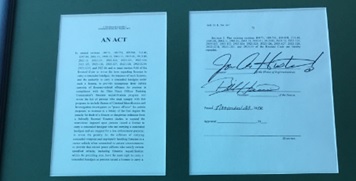 Gun owners across Ohio haven't forgotten how their friendship with Jon Husted was solidified all those years ago and Husted hasn't forgotten either. Among family photos, plaques and awards placed on the walls of the Secretary of State's Office hangs a single, framed piece of legislation that reminds visitors of the Secretary's time leading the House of Representatives. In that frame is House Bill 347 and at the bottom of House Bill 347, appearing larger than it's usually written (and followed by an exclamation point) is the unmistakable signature of Jon Husted – a man who has never turned his back on the Second Amendment or its supporters.
Time will tell exactly who will be Ohio's 70th Governor, but Jon Husted's potential candidacy is a very encouraging sign for both Ohio and Second Amendment supporters. If you are interested in learning more about Jon Husted and his candidacy, visit www.HustedforOhio.com.