N.E. Ohio Concealed Carry Fashion Show to gain national audience through A&E documentary
7:00am Wednesday, February 08, 2017
February is Conceal Carry Month, at least in Independence, Ohio, where firearms enthusiasts will gather for an exceptional day on February 19.
REALIZE Firearms Awareness Coalition is pulling back the curtain on concealed carry to expose some of the quality products available in pro-gun fashion for both men and women, and a film crew from A&E will be on hand to document the fun.
The day begins at 1:00 when doors open for seating for the REALIZE F.A.C. Concealed Carry Fashion Show. Following the show, guests will be able to visit with vendors and distributors from 4:00 to 5:00. At 5:00 the doors will open again (separate ticket required) for the Greater Cleveland Friends of NRA banquet.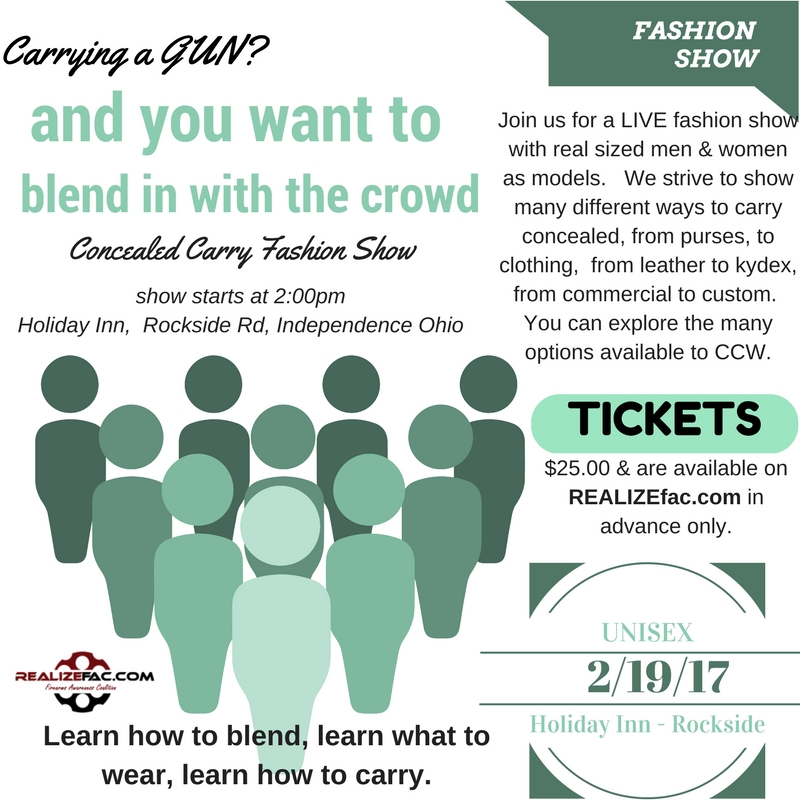 Purchase tickets here for the REALIZEfac Fashion Show
The show is expected to include more than 50 unique concealment items with the modeling help of Bob Golic, former Cleveland Browns player, Michelle Cerino, "Princess Gunslinger" and editor of Women's Outdoor News, and Charlie Cook, host of Riding Shotgun with Charlie. Other models include men and women representing a variety of real-world body types.
In addition to modeling at the show, Cook, of #GunGram fame- the guy with a Glock and a Trumpet, will co-emcee the show with Amanda. He hopes to be filming a few segments in the Ohio and Michigan area when he is in Cleveland.
REALIZE F.A.C.'s Concealed Carry Fashion Show has captured the attention of a national television station, and a film crew will be in attendance filming for the show.
Producers from A&E's Channel Viceland documentary series States of Undress are working with REALIZE F.A.C. founder, Amanda Suffecool, to better understand women's involvement and the empowerment of the distinctly-American Second Amendment culture.
States of Undress is a documentary which travels the world to places like Russia, China, and the Congo to cover female empowerment through the lens of fashion. Host Hailey Gates has already met up with northeast Ohio locals Erica Spencer (28) and Gina Spaller (44) to talk concealed carry. Hailey and crew received a lesson in firearms safety from NRA instructor Spaller and watched Erica shoot a stage of USPSA pistol in Deerfield, Ohio. Gina shared her designs for a hip-hugging concealed carry/ motorcycle bag. Hailey and crew didn't just watch, but took their first shots downrange erupting in squeals and laughter.
The film crew also spent time in the Radio Studio with Amanda and her brother, Rob Campbell, as they hosted their weekly Eye On The Target Radio live call-in gun talk show. Eye On the Target airs from 7-10 pm on Sunday evening on WNIR 100.1 FM Akron/Kent and the same time on Monday on KRMA internet radio.
After learning about gun safety and trying their hand at shooting, the crew headed north to attend an all-female meeting of the A Girl and A Gun Northeast Ohio chapter, and also went to a firearms store to walk through the firearms purchase process.;
This opportunity to promote and share a pro-gun educational event with firearms-neutral people will conclude at the Conceal Carry Fashion Show. The targeted audience of Viceland States of Undress is "global fashion and issues the industry often ignores, showing us what the world wears, and why." REALIZE Firearms Awareness Coalition has worked to expose others to the Second Amendment lifestyle through pro-gun sports, safety, and community necessary to support the pro-gun, pro-concealed-carry lifestyle.
We would like to invite you to be part of the audience. Tickets and information is available through the website www.REALIZEfac.com. We would love to see you there.
Purchase tickets to the Greater Cleveland Friends of the NRA here.