No Gun No Money Card 25 Pack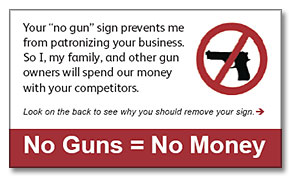 What do you do when a business you frequent puts up a "no gun" sign? Get mad? Walk away? Passively disarm?
Now you can express your opinion in a clear, persuasive, and non-confrontational way. Simply hand the owner or manager one of our No Gun No Money cards.
On the front: Your "no gun" sign prevents me from patronizing your business. So I, my family, and other gun owners will spend our money with your competitors.
On the back: Your "no gun" sign is bad for business. It does nothing to make you safer. It simply tells criminals you're an easy target and drives away good customers with a concealed carry license.
Unlike most people, license holders have passed a criminal background check. Statistics show we are far more law-abiding than the general public. Our numbers are growing every day. We are ideal customers and will patronize your business if you let us. Remove your sign and I, my family, and many other gun owners will gladly return.