Permitless Carry Works: Fewer Ohioans Apply for New CCW Licenses in 2022
6:00am Thursday, March 02, 2023
According to the Ohio Attorney General's annual report on concealed handgun licenses, fewer Ohio residents applied for a new license in 2022 than in previous years. However, license renewals remained average compared to the previous nine years.
What this means is that the Buckeye Firearms Association-backed permitless carry law is working as intended. Those who wish to carry concealed may do so without a license. However, the optional license remains for those who wish to maintain reciprocity with other states.
From the report:
... the change in state law resulted in a predictable and significant drop in the number of concealed-carry licenses that were issued and renewed by Ohio's 88 county sheriffs, who administer the program.

Last year, 27,031 new licenses were issued, compared with 94,298 in 2021 — a decrease of about 71%. Likewise, license renewals totaled 62,751, compared with 108,622 in 2021 — a 42% decrease.
To put this in context, let's look at two charts in the report, showing 2022 numbers for new and renewed licenses.
New Licenses Issued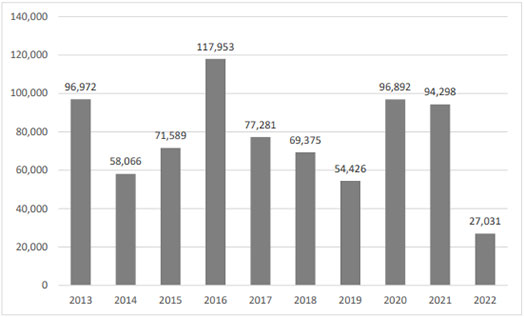 Licenses Renewed
As you can see, the number of new licenses dropped significantly in 2022. This was to be expected after permitless carry was signed into law in March of last year and then went into effect in June. Those who would otherwise qualify for a license to carry concealed may now choose to carry without a license. No more mandated classes, applications, processing fees, or other red tape to exercise a constitutional right.
Another thing to consider is that new license applications tend to peak in a given year and then drop over the next two or three years. We saw a big spike in applications during the "pandemic" years of 2020 and 2021, so a drop should have been expected even if we had not made the license optional.
As for license renewals, you can see that while the number is lower than last year, it's actually higher than for the years 2013-2017. The average number of renewals for the nine years prior to 2022 is 66,441, while last year's renewals totaled 62,751. That's a drop of less than 6% from the average.
While we can expect to see new license applications remain lower, it's difficult to predict where these numbers will end up over the next few years. We'll reach a new normal for both new and renewed licenses.
And that's how it should be. It is now your choice to carry with or without a license. I recently renewed my license in order to maintain reciprocity, which means I can legally carry in 39 states. For others who don't travel as much or simply don't want the hassle and expense, you can carry within the state with all the same rights as those who have a license.
We still have work to do in Ohio to help residents more fully exercise their Second Amendment rights, but we've come a long way since Buckeye Firearms Association formed nearly two decades ago. Passing permitless carry last year was a crowning achievement that has made Ohio one of the most free states for gun owners.
Dean Rieck is Executive Director of Buckeye Firearms Association, a former competitive shooter, NRA Patron Member, former #1 NRA Recruiter, and host of the Keep and Bear Radio podcast.