Survey: Which Republican presidential candidates own guns?
7:00am Monday, September 21, 2015
The London Daily Telegraph recently asked the Republican presidential candidates if they owned a gun, and reported the responses.  
The candidates, including one who has since dropped from the race, are listed below in alphabetical order.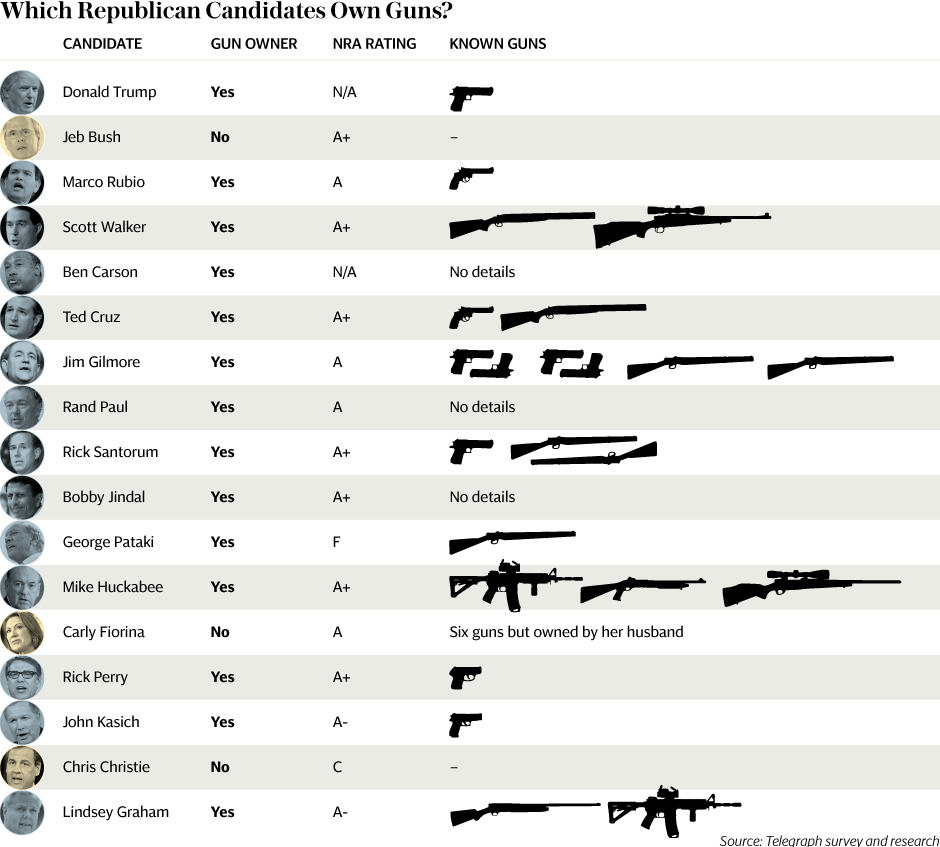 Jeb Bush:
Former governor Bush is one of three candidates who does not own a gun. However, the report notes that he was avowedly pro-gun during his eight years as governor of Florida and earned an A+ rating from the National Rifle Association (NRA).
Mr. Bush has been bullish on gun rights on the campaign trail and said in September that the US government "should not be involved in gun laws" and that regulations should be left to individual states. He has attacked Donald Trump for his past support for Bill Clinton's assault weapons bans.
Ben Carson:
Dr. Carson told the Daily Telegraph that he is "extremely pro-second amendment," and that he owns a gun which he says is for self-defence and for protecting his home and family.
Mr Carson was criticised by some gun rights advocates in 2013 when he suggested that semi-automatic weapons should be available in rural areas but not in major cities.

"It depends on where you live. I think if you live in the midst of a lot of people, and I'm afraid that that semi-automatic weapon is going to fall into the hands of a crazy person, I would rather you not have it," he said at the time.
As the presidential campaign progresses, Buckeye Firearms Association will do our best to make readers aware of opportunities to see and learn more about the candidates when they visit Ohio. To that end, we note that Dr. Ben Carson will be making two stops in the Cincinnati area on Tuesday, September 22.
Chris Christie:
Gun owners familiar with the represive gun control laws in New Jersey won't be surprised to learn that the state's governor does not own a gun.
His state has a tradition of strong gun laws and Mr. Christie has done little to loosen them during his time in office. While he vetoed a bill that would have limited gun magazines to 10 rounds, he has also said there must be a "balance" between gun rights and public safety. The NRA gave him a C when he ran for re-election in 2013.
Ted Cruz:
Sen. Cruz told the Daily Telegraph he owns one revolver for self-defense and one shotgun for hunting. His campaign declined to say whether he has a concealed carry license.
He is a favourite of the NRA as a result and in 2010 the gun lobby group gave him an award in honour of his "exemplary activities in the support and protection of the right to Keep and Bear Arms".
Carly Fiorina:
The Virginia businesswoman reports that there are a half-dozen guns in her home, but that "my husband is the gun owner in our house."
Mrs. Fiorina said she is not a hunter or a target shooter but is a firm supporter of the right to bear arms. "It is our God-given right and it is our Constitutional right," she said.

She was given an A ranking by the NRA when she ran for the Senate in 2010.
Jim Gilmore:
Mr. Gilmore sits on the board of directors of the National Rifle Association.
The former Virginia governor owns four handguns and two shotguns, says he shoots several times a year, and also has a concealed carry license.

...

He says he owns guns for hunting as well as for self defence and home protection.
Lindsey Graham:
According to information he provided to the Daily Telegraph, Sen. Graham has one of the largest gun collections of any of the candidates. A spokeswoman said he has around a dozen guns including rifles, shotguns and a handgun.
Among them is an AR-15 rifle stamped with the insignia of his Air Force unit. He also owns a Sweet-16 Browning, given to him by his father when he was a teenger.

...

He was given an A- rating by the NRA ahead of his last election in 2014.
Mike Huckabee:
Former governor Huckabee told the Daily Telegraph he owns "quite a few" guns, and says he bought his first, a .22-calibre rifle, when he was only nine years old.
The former Arkansas governor named his most recent book God, Guns, Grits and Gravy and wrote in it that "in the world that I come from and choose to live in, 'gun control' means that you hit the target".

...

He opposes waiting lists ("anyone who needs a gun for self-defense probably needs it now, not two or three weeks from now") and was the first American governor to have a concealed-carry license.

His platform states that the second amendment is "the last line of defense against tyranny".
Bobby Jindal:
A spokeswoman for the governor of Louisiana told the Daily Telegraph he owns a gun but declined to give details.
[T]he staunchly conservative Mr Jindal's Instagram feed shows him and his family posing regularly with weapons.

One picture shows him cradling a weapon at a gun store in Iowa.

...He called for states to strengthen their gun laws to ensure that people with reported mental illnesses could not purchase guns.
John Kasich:
Gov. Kasich reports owning one semi-automatic pistol, and the Daily Telegraph notes he has signed several pro-gun laws during his time as Ohio governor.
But the relationship has not always been so warm. In 1994, when Mr Kasich was a Congressman, he voted for Bill Clinton's ban on assault weapons. The NRA gave him an F ranking in response and endorsed his Democratic opponent in the 2010 race for governor.

"Gun owners don't ever forget things like that," said Jim Irvine, chairman of the Buckeye Firearms Association. "But as governor he's signed everything he could and he's been very good on this issue".
George Pataki:
Mr. Pataki reports keeping a shotgun at home for hunting and protection.
But that has not saved him from an F rating by the NRA - the worst ranking of any of the 17 Republican candidates.

He earned the gun lobby's wrath in 2000 by signing a set of strict gun laws which banned assault weapons and high-capacity magazines.
Rand Paul:
Rand Paul's campaign confirmed to the Daily Telegraph that the Kentucky senator owns multiple guns, but declined to give details.
The article notes that Mr, Paul has an A rating from the NRA but was not invited to their annual convention this year because of his links to the National Association for Gun Rights, a so-called "no compromise" gun group that recently torpedoed a chance to restore Coloradans' right to own standard capacity magazines.
Rick Perry:
As noted by the Daily Telegraph, the former governor of Texas is "one of the most enthusiastic gun owners in the race, although his campaign declined to give details of his own collection."
He has an A+ rating from the NRA.

He is a regular at the gun range and refers to shooting as "my form of golf".
Since the publishing of this survey, Mr. Perry has ended his campaign.
Marco Rubio:
Sen. Rubio told the Daily Telegraph he owns one revolver, and that he shoots two to three times a year with his wife. The Senator says he has a license to carry.
Mr. Rubio was involved in passing the controversial "Stand Your Ground" laws in Florida while he was in the state House of Representatives...
Rick Santorum:
The former senator did not answer the Daily Telegraph's survey, but in his 2011 campaign he said he owned seven guns.
He has a lifetime A+ rating from the NRA after consistently voting against gun control measures.

He took a break from campaigning in 2011 to go pheasant hunting in Iowa, and afterward spoke breathlessly about the moment his son John shot his first bird.

"There's only one thing better than getting a bird, and that's watching your son for the first time getting a bird," he said.
Despite his support for and enjoyment of hunting, many sportsmen have questioned Santorum's close association with Wayne Pacelle, an animal-rights activist who now heads the Humane Society of the United States (HSUS), an anti-hunting extremists group.
Donald Trump:
The article says Mr. Trump has been "cagey" in his answers on this subject to other media inquiries, and it does not appear that he provided a response to the Daily Telegraph survey either, but the report notes that Trump was on a list of New York City gun owners obtained and published by an Internet website in 2010.
Mr. Trump has flitted between being a Democrat, Republican and independent in recent years and his positions on gun control have shifted also.

In 2000, he wrote that he backed Bill Clinton's ban on assault weapons and supported "a slightly longer" waiting period for buying a gun. He appears to have recanted and no longer supports any new gun controls.
Scott Walker:
The Wisconsin governor told the Daily Telegraph he owns two guns - an over-and-under shotgun and a rifle.
Mr. Walker did not grow up hunting like some of the other candidates, but says he now hunts deer, pheasants and ducks. He is a vocal opponent of gun control and has an A+ rating from the NRA.

He claims to have transformed Wisconsin "from one of the more restrictive to one of the freest states in the union when it comes to the right to bear arms".
Since the publishing of this survey, Mr. Walker has ended his campaign.
Chad D. Baus is the Buckeye Firearms Association Secretary, BFA PAC Vice Chairman, and an NRA-certified firearms instructor. He is the editor of BuckeyeFirearms.org, which received the Outdoor Writers of Ohio 2013 Supporting Member Award for Best Website.