HB 16 ('Toy' gun control) won't make officers' jobs any easier
7:00am Tuesday, February 03, 2015
Late in 2014, and in the wake of an incident in which a 12 year-old Cleveland boy was killed by police after he attempted to draw what turned out to be an airsoft pistol from his waistband, Rep. Alicia Reece's (D) knee-jerk reaction came quickly. The anti-gun rights politician from Cincinnati introduced legislation based off of a recently-passed California gun control law, requiring all BB guns, air rifles and airsoft guns sold in Ohio to be brightly colored or have prominent fluorescent strips. Admitting the bill had no chance of passage in the waning days of the 130th General Assembly's lame duck session, Reece vowed to reintroduce the bill again after the New Year.
The bill has resurfaced as House Bill 16, and is co-sponsored by Democrat Reps. Kevin Boyce, Michael Sheehy, Nickie J. Antonio, Janine R. Boyd, Stephanie D. Howse, Teresa Fedor, Nicholas J. Celebrezze, Fred Strahorn, Mike Ashford, Emilia Strong Sykes, Christie Bryant Kuhns, Michele Lepore-Hagan, and Hearcel F. Craig
The bill seeks to define all paintball guns, all pellet guns, all airsoft guns as "BB devices", and would ban the sale of what it calls "imitation firearms" (other than nonfiring collector's replicas, paintball guns, and BB/Pellet guns) in the State of Ohio after January 1, 2016, unless it is:
(4) A BB device that is an airsoft gun that expels a projectile, such as a BB or pellet, that is 6mm or 8mm caliber, if the device contains the blaze orange ring on the barrel required by federal law, has a trigger guard that has fluorescent coloration over the entire guard, and meets either of the following:

(a) If the airsoft gun is configured as a handgun, there is a two centimeter wide adhesive band around the circumference of the protruding pistol grip that has fluorescent coloration and the adhesive band is applied in a manner not intended for removal and is in place on the airsoft gun prior to sale to a customer;

(b) If the airsoft gun is configured as a rifle or long gun, there is a two centimeter wide adhesive band with fluorescent coloring, applied in a manner and in place as described in division (C)(4)(a) of this section, around the circumference of any two or more of the following:

(i) The protruding pistol grip;

(ii) The buttstock;

(iii) A protruding ammunition magazine or clip.
So for these guns, instead of removing or painting over an orange tip, a person who wanted their gun to look like a firearm would need only to paint over the trigger guard and pull off a few pieces of adhesive tape (yes, the bill seeks to make that illegal too). Or, in the reverse, a criminal who desired to make his firearm resemble one of these guns by purchasing a roll of adhesive tape and a small bottle of paint (a practice that is already illegal, but criminals...well, they just don't care).
Reece also clearly labors under the false impression that all firearms are black. She would continue to allow the sale of these guns if the following applies:
(5) A device the entire exterior surface of which is white, bright red, bright orange, bright yellow, bright green, bright blue, bright pink, or bright purple, either singly or as the predominant color in combination with other colors in any pattern;

(6) A device that is entirely constructed of transparent or translucent materials that permits unmistakable observation of the device's complete contents.
How in the world does Rep. Reece think it will help to make all BB gun, air rifle and airsoft manufacturers make their guns look like the actual firearms shown below?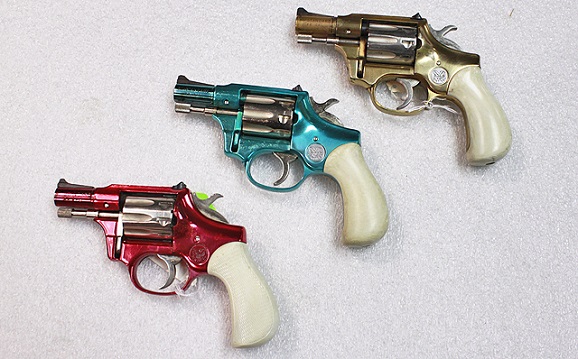 Does Rep. Reece honestly think police can afford to be any less concerned when the gun pointed at them is brightly colored, or when it has a few strips of florescent tape on it?
The FBI doesn't.
As noted in a recent Columbus Dispatch editorial subtitled "Changing the look of toys won't make police officer's job easier," a study of look-alike guns by the federal Bureau of Justice Statistics (at http://1.usa.gov/1rWOxmg), provides an excellent discussion of why all guns should be regarded as firearms until officers are absolutely certain.
It points out that toy and nonlethal recreational guns are used in real crimes. The study found police had seized 31,650 imitation guns involved in a crime or serious incident in a four-year period.

And 186 police departments reported 1,128 incidents in which an officer, thinking a gun was real, had issued a warning or threatened to use force. Police actually used force in 252 cases.

Modern revolvers and pistols, themselves often made of plastic, can be difficult to distinguish from plastic toy guns. And many real handguns now sport vivid colors often marketed to women who shoot for sport or own them for self-defense.

And just how is a police officer to know whether a criminal has applied fluorescent strips to a real firearm to make it appear to be a toy? Which officer wants to risk his or her life by assuming the object is a toy?

"The people who are intending to do bad things have figured out that if you have an orange tip on a gun, the police hesitate," Ken Hanson, legislative chair of Buckeye Firearms Association, told Gongwer Ohio news service.
Indeed, just days before Rep. Reece's 2014 version of the bill was introduced, an image of the gun was posted on a Facebook page called "Sheriff Deputies of Ohio" along with the comment "This is a fully functional shotgun, disguised to look like a toy. I suspect that we'll be seeing more and more of this. Be careful out there. 1*"
The post has since gone viral, having been shared more than 133,000 times. Articles about the disguised shotgun have been published by Mad World News, Opposing Views, and The Cleveland Scene.
The gun in the photos was confiscated by Indianapolis police in 2012.
This case, along with a recent incident in California where police conducting a drug raid confiscated two AK-47 rifles with orange tips painted on them, and an incident in Reece's own county involving the confiscation of a handgun which was painted red, reveals just how ridiculous Rep. Reece's recently introduced "toy gun control" bill is.
As the Dispatch editorialized, New York City passed a similar law in 1999 that required such guns to be brightly colored, entirely transparent or translucent. From the article:
In April 2000, two Brooklyn teenagers used toy guns wrapped in black tape to attempt a robbery. They died after being shot by undercover officers.

In August 2002, a Brooklyn man holding a toy gun was shot and killed by police.

In January 2003, a 17-year-old in Manhattan was shot dead by police after putting a BB gun to the head of an undercover detective dressed as a delivery man.
What is it about gun control advocates that they can't learn from other states' failed experiments?
Chad D. Baus is the Buckeye Firearms Association Secretary, BFA PAC Vice Chairman, and an NRA-certified firearms instructor. He is the editor of BuckeyeFirearms.org, which received the Outdoor Writers of Ohio 2013 Supporting Member Award for Best Website.