Husted, Yost and Others Honor Life of Second Amendment Warrior Ken Hanson
7:00am Wednesday, September 11, 2019
DELAWARE, Ohio — Second Amendment supporters from around Ohio and beyond gathered Saturday at Blackwing Shooting Center to celebrate and memorialize one of gun owners' greatest allies and advocates – L. Kenneth (Ken) Hanson. Hanson, co-founder of Buckeye Firearms Association (BFA), passed away Sunday, August 4, 2019. He was 49 years old.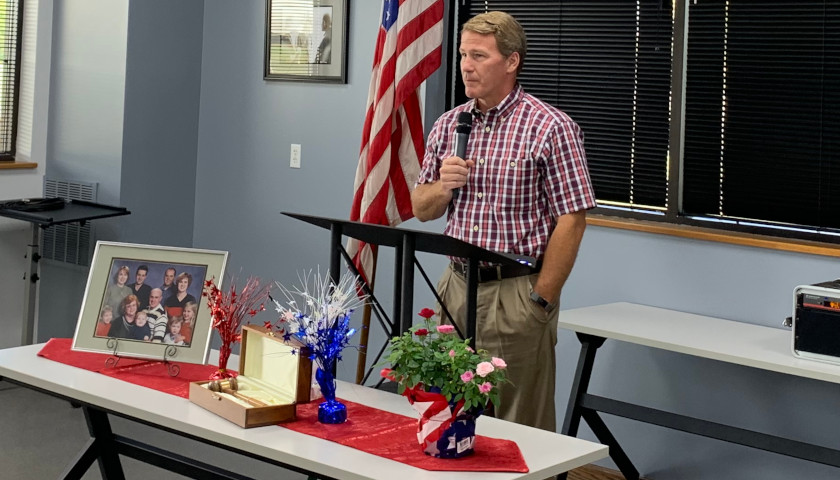 Lt. Gov. John Husted, Attorney General Dave Yost and Ohio NRA Board Member Linda Walker all spoke.
In announcing Hanson's death, BFA wrote, "Ken combined his deep love of country with his significant legal skills to help chart the course for Ohio gun law in ways that will reverberate through the next hundred years and beyond."
One of Hanson's most significant career accomplishments was his amicus brief for the DC vs. Heller case. His brief, that he authored with Michael Moran and Ramon Santini, was actually cited in the final opinion authored by Justice Antonin Scalia. Dean Rieck noted, "It [Heller] changed everything in this country when it comes to gun law. It helped change the law in this country forever."
The case was the first time the Second Amendment had been reviewed by the Court since 1939, and the decision made clear that the right to keep and bear arms is for individuals as well as militia.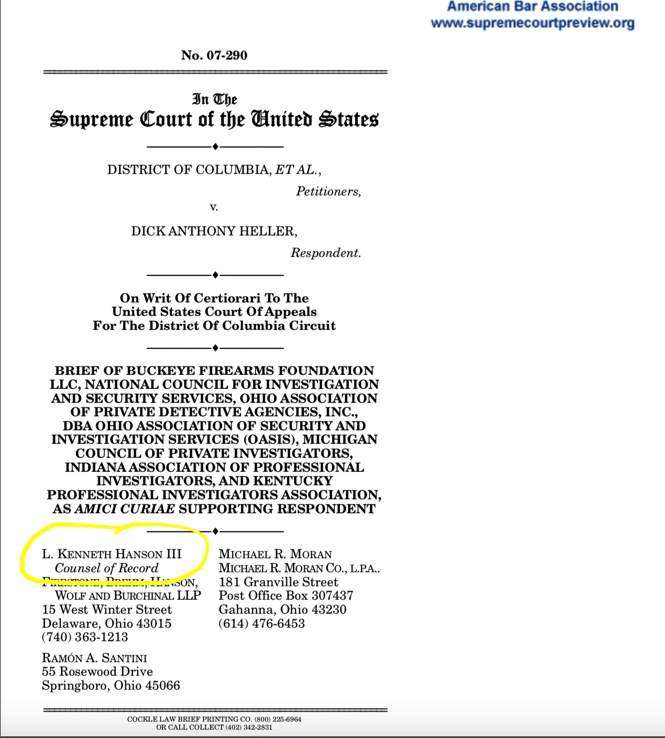 Hanson received numerous awards throughout his career. In 2008 he was awarded with the National Rifle Association's Institute for Legislative Action's (NRA-ILA) Defender of Justice Award. The following year he was chosen for the Jay M. Littlefield NRA-ILA Volunteer of the Year Award. In 2016 he received both the NRA-ILA Defender of Justice Lifetime Achievement Award and the BFA Political Action Committee's Second Amendment Legendary Award, "…for preserving our Second Amendment and Constitutional rights."
Linda Walker, an Ohio NRA Board Member, was a close friend of Hanson and emceed the event. "I've known Ken since 2004…He had asked me, these are his words, he goes, 'After I pass, I want you to throw me a kick ass party' and here we are today…And it seemed really appropriate with everything that he did for gun rights in Ohio, that we would have it here at Blackwing."
"Ken did not want us to mourn. He wanted us to celebrate his life and what he had given to Ohio. It's kind of funny, I was looking through my phone and the very last text that I received from Ken was two words – 'God's plan.'"
The first speaker was one of Hanson's childhood friends from Worthington. Mike shared one his favorite Ken quotes, "There's no such thing as a right, unless your left hand is holding a rifle."
Dean Rieck, executive director for Buckeye Firearms who had worked closely with Ken, told the room full of friends and family that Hanson's "magnum opus" was The Ohio Guide to Firearms Law. Rieck also announced the creation of the Ken Hanson Constitutional Law Scholarship for attorneys who are still in school who want to focus on the Constitution, a fitting tribute since Hanson loved the Constitution and spent his career vigorously defending it.
Now-Lieutenant Governor John Husted first met Ken Hanson when Husted was Speaker of the Ohio House. Husted described a very difficult issue with which Ken had helped – improving a poorly crafted concealed carry bill that had recently become law. "We were endeavoring to create a statewide standard and make it easier and clearer, to make it a functional law," Husted said. But the governor had promised, and delivered, a veto on their improved bill.
"Ken had his hands on the issue the whole way," Husted explained. "And then we had the big discussion about whether we would attempt to override a Governor's veto…We were coming to the House floor and Ken asked me if I would use this gavel." Husted showed the gavel to room and shared its inscription:
Gavel used in House veto override vote. HB 347, December 7th, 2006. 71 yeas, 21 nays."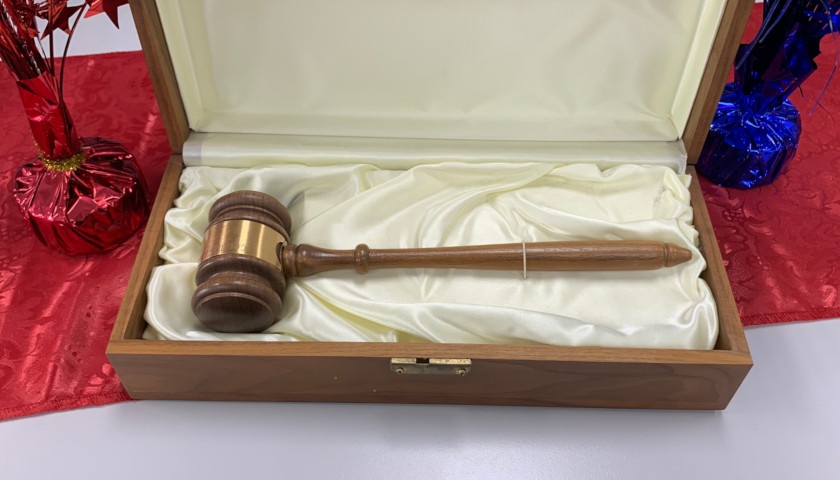 "But it was through that process that I got to know Ken, and he was incredibly helpful. Believe me, I could use him again. I wish he was around to help us with some of the things we're trying to navigate these days…He was a patriot. He loved this country. He loved what it stood for. He tried his best to embody those values…He treasured freedom, he tried to use it for good, he was the Lord's humble servant."
Dave Yost knew Ken when both worked in the city of Delaware, Yost as the prosecutor and Ken a local attorney. "I always respected him as an excellent lawyer, one that did his homework, one who was always civil, one who would fight for his clients and his cause and never lost his temper…I especially became appreciative of his inventiveness, his creative mind when we began to work on Second Amendment issues."
Yost recalled the prevailing views of the time on the Second Amendment, the question being was it a collective right or an individual right. Ken encouraged then-Prosecutor Yost to sign the Maricopa County Arizona amicus brief for DC v. Keller. Hanson had already paved the way for Yost with the Arizonans and Yost gladly signed on to the brief.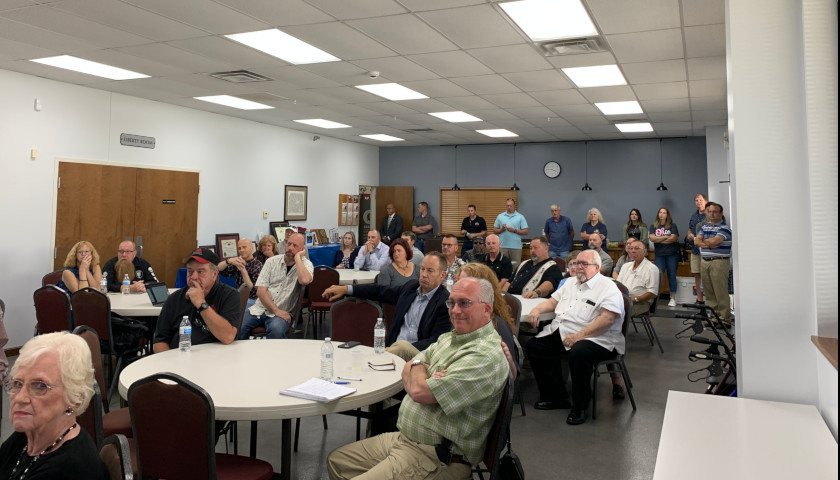 "There's a larger memory, there's a larger issue for me for Ken Hanson when I think about him. I don't just think about a Second Amendment warrior, although he was that," Yost said. "Ken understood that the Constitution is not some amorphous, living, breathing document upon which we reflect our own desires, our own policy goals, our own wishes. He understood that it was the template, the social compact, by which we as a society agreed that we are going to judge what are the proper and just and allowable actions of government."
The Attorney General told the group that the last few times he and Hanson had spoken it was about the decreasing understanding of the Bill of Rights. "Ken understood this, the Bill of Rights is not subject to the popular wishes. It stands athwart popular sentiment for an unchanging truth about the way we will govern ourselves and the way we will operate society. That's a great legacy."
Another attorney and college friend, Mike Moran, spoke. He referred to Hanson as a "selfless servant of God, a family man, a patriot. Ken Hanson walked his own path. Ken Hanson marched to the beat of his own drummer." Moran recalled that Hanson had asked him to help on the Heller brief and what an honor that was to share authorship.
Hanson's law partner, David Brehm, said, "Ken answered an ad for an attorney, 2001, I remember seeing the resume. It wasn't my favorite. So plain and unassuming. We got Ken in to talk to him. One of the smartest guys I ever met. It was his love for his wife and his family, that's why we hired him. I knew we could trust him."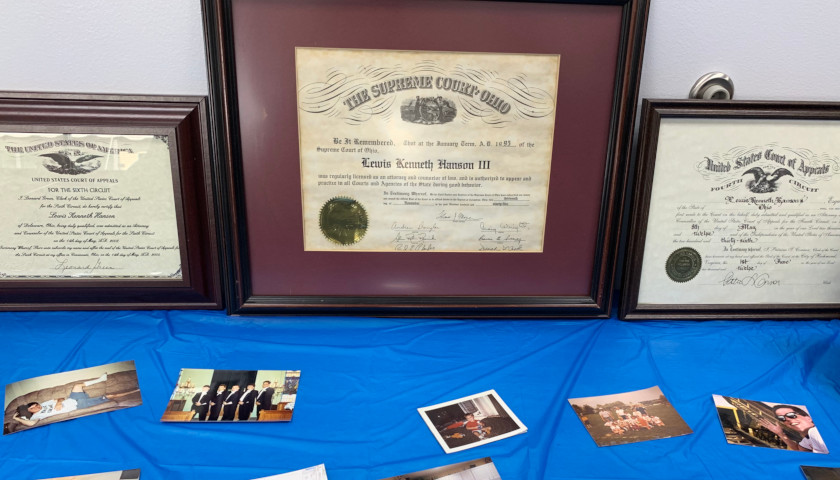 Brehm also recollected, "Ken was the only attorney in Delaware who had a mat outside his door that said, 'Come back when you have a warrant'. It wasn't about the money for Ken. It was about what was right, it was what he stood for."
Every speaker addressed the family – his wife Sharon and children Miranda and Mitch. Every speaker shared how Ken Hanson constantly spoke about his family and his deep, abiding love for them.
At the end, Hanson's son Mitch decided to speak about his father. He shared one of his dad's stories about hunting squirrels with friends at Marietta college. "His friends went off on their own, when they came back, (he) had a squirrel in his lap and he was feeding him. The biggest thing I'm going to take with me now that he's gone is to love unconditionally."
Beth Lear is a reporter at The Ohio Star. Follow Beth on Twitter. Email tips to [email protected].